How to Choose the Right Office Chair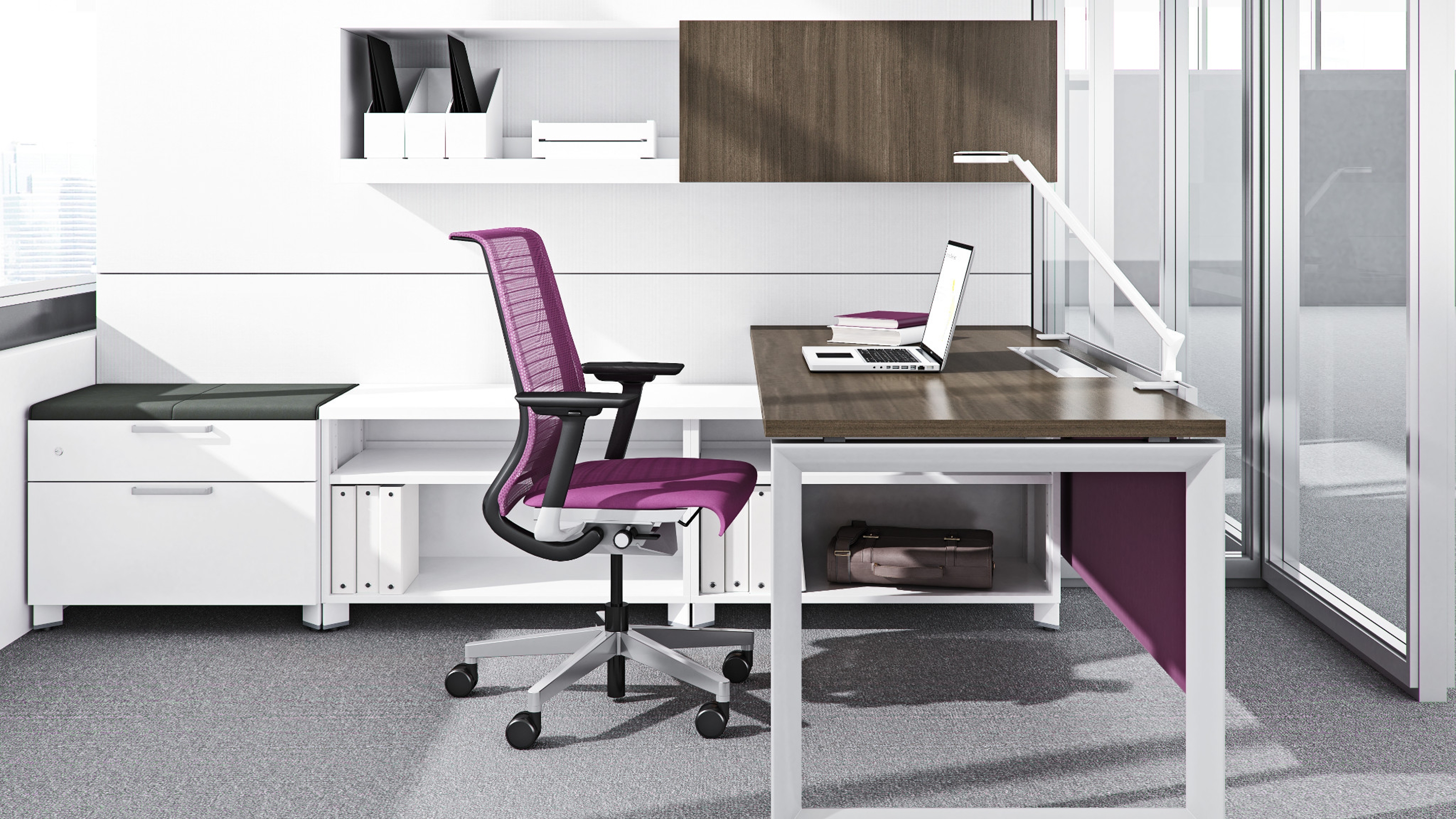 We're talking office chairs today! Pretty interesting stuff, right?! But no really, it actually is. Did you know that the average American sits an average of 13 hours a day? That's a lot of chair time! However, take a step back and look. Sitting is an important part of the day, and one that we cannot practically—and shouldn't want to—eliminate. Yet, in some cases, it's "how" we might sit, in static postures all day, and the length of time. These static postures are impacting our well-being and productivity. Let's take a closer look at how to choose the right office chair.
First, rather than focusing on sitting as a problem, we should have a broader view. A healthy day finds a balance between sitting, standing, and walking. From body size and shape to gender and generation, each play a role in preference of each individual. Your body is unique. As a result, you need a desk chair that easily adjusts to fit you, your preferences, and how you work.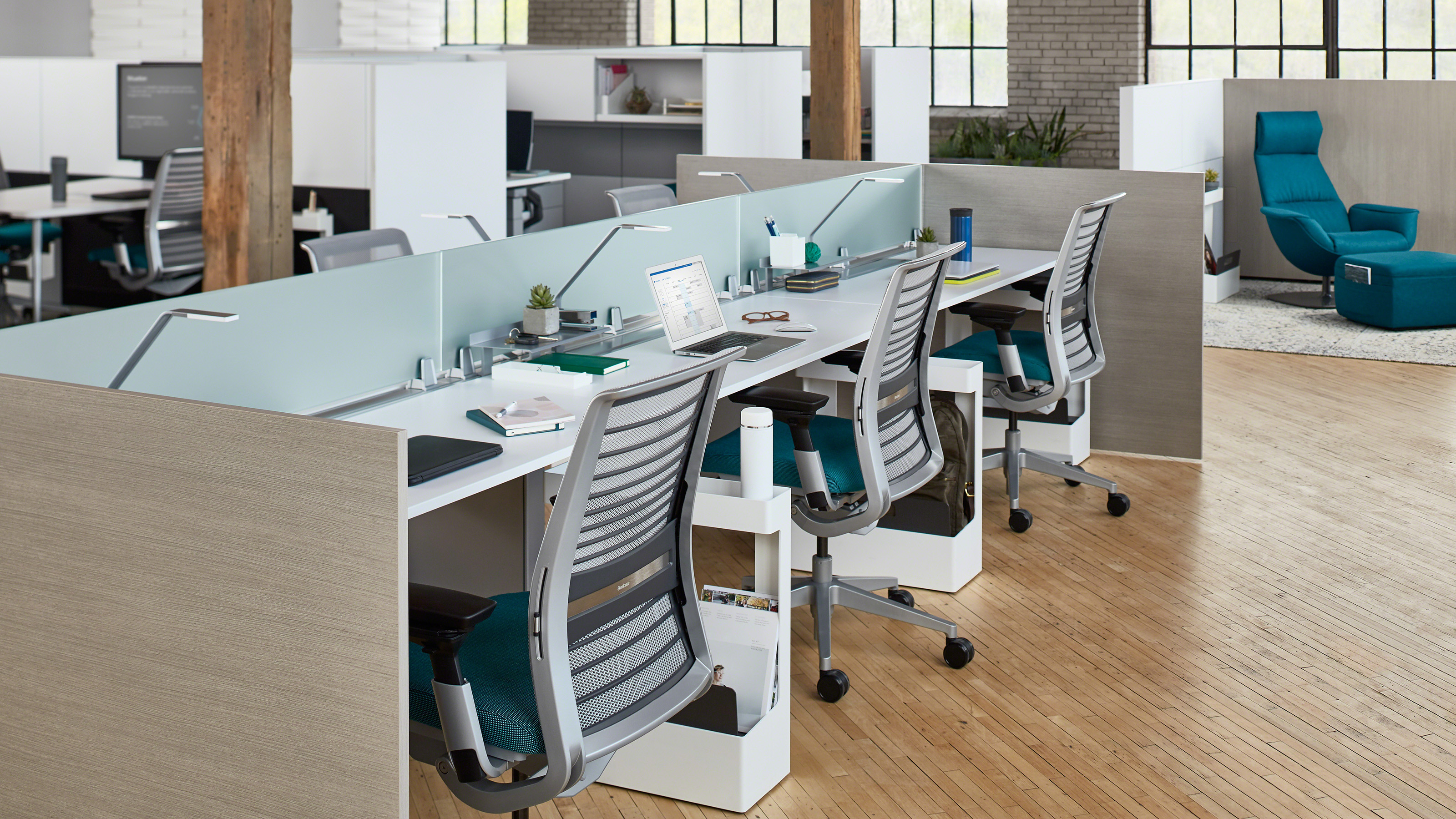 Here are a few things to consider when choosing the right work chair:
Overall Adjustability
It's important to remember that moving helps reduce pressure on the spine, sends oxygen to your muscles, and increases blood flow to your brain. Movement is healthy and your desk chair should support your body as you move.
Recline

Reclining in your chair supports the weight of your upper body and as a result relieves some weight from your lower back. Changes in your posture help you stay comfortable and more attentive. You want to choose a chair that enables you to comfortably recline without straining your eyes, neck or arms.

Seat Height & Depth

When seat height is properly adjusted, thighs should be parallel to the ground with knees bent and feet flat on the floor or footrest. You should be in full contact with the chair's backrest and there should be adequate space (width of 2-4 fingers) between the back of the knees and front edge of the seat. Having an adjustable seat depth allows individuals to achieve long-term comfort.

Armrest

Keep in mind that your armrests should provide a natural and appropriate level of support for the neck, shoulders, forearm, and wrists. The armrest's height, width, pivot, and depth adjustability provide personalized support for your arms.

Lumbar Support

The best lumbar support offers both vertical and depth adjustment. This is especially important if the user has lower back issues, or if multiple people will use the chair. The most basic lumbar supports are adjusted vertically as you raise and lower the chair back. A fixed depth lumbar is acceptable if it fits you well and does adjust vertically. A chair without either an adjustable back height or an independently height-adjustable lumbar support may not fit many people.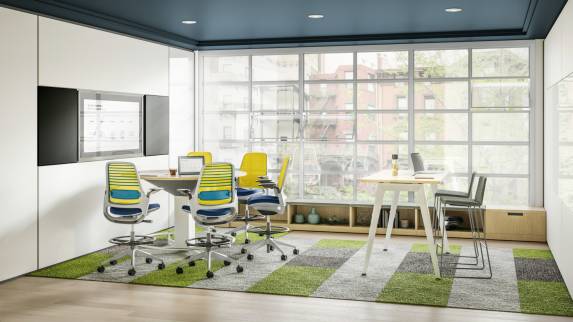 Lastly, here are a few good sitting posture tips, according to the American Chiropractic Association:
Keep your feet on the floor (or on a footrest, if they don't reach the floor)
Keep a small gap between the back of your knees and the front of your seat
Your knees should be at or below the level of your hips
Adjust the backrest of your chair to support your low- and mid-back
Avoid sitting in the same position for long periods of time
Interested in seeing what office chairs we have available? Contact us to set up a time to visit our showroom.
---
---
Sources
http://www.thehumansolution.com/how-to-choose-the-best-ergonomic-chair.html
https://www.steelcase.com/products/office-chairs/think
https://www.steelcase.com/products/office-chairs/leap
https://www.steelcase.com/research/articles/topics/office-chair/head-and-shoulders-above-the-rest/
https://acatoday.org/content/posture-power-how-to-correct-your-body-alignment
http://www.prnewswire.com/news-releases/new-survey-to-sit-or-stand-almost-70-of-full-time-american-workers-hate-sitting-but-they-do-it-all-day-every-day-215804771.html
https://www.steelcase.com/research/articles/topics/wellbeing/sitting-isnt-issue-static/