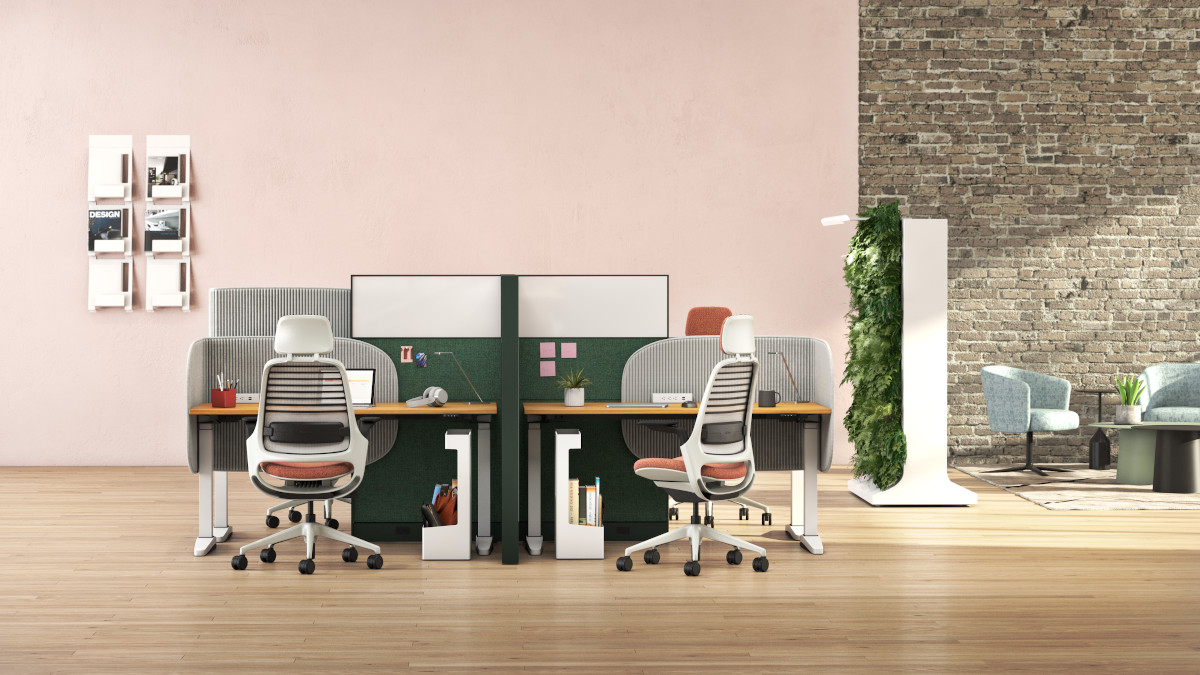 As we navigate this crisis, our partners at Steelcase worked with a diverse network of leading experts to create a guide for returning to the workplace. "Navigating What's Next" offers strategies for retrofitting, reconfiguring, and reinventing the workplace to create a safe office. Highlighted below are some of our key takeaways that we want to share with you.
Navigating What's Next
Returning to the workplace will be like reopening the economy. It will happen in waves and it will be stressful for both organizations and workers. It's impossible to predict what may happen next. But we still need to prepare. Reopening the economy will challenge every company to quickly regain productivity and competitiveness, without compromising health and safety. We recognize the importance of looking at the return to work across the time horizons of now, near and far. For many organizations this will happen in waves and differ across geographies, as they bring segments of their workforce safely back into the office.
Now

This will be the first wave, with portions of the workforce continuing to work from home. Planning for now also means retrofitting the workplace, based on a common-sense approach that adheres to governmental and global health guidelines, including physical distancing, adding barriers, cleaning and safety measures.

Near

At this stage, organizations may be ready to bring back most or all of their workforce. Building on what we learn from our experiences and science, organizations can begin reconfiguring the workplace. This will involve new ways to lay out space and change work settings to offer longer-term solutions for enhanced safety.

Far

Work environments in the future will require reinvention as science based evidence and emerging technologies offer new solutions. Planning paradigms of the past were driven by density and cost. Going forward they need to be based on the ability to adapt easily to possible economic, climate and health disruptions. The reinvented office must be designed with an even deeper commitment to the wellbeing of people, recognizing that their physical, cognitive and emotional states are inherently linked to their safety.

One thing is certain: We will design and plan spaces differently in the future.
Companies want to bring people back to the office because they know it's the best place for people to come together, align on priorities and get things done. People have grown weary of isolation and look forward to being able to speak directly to their colleagues and solve problems. As organizations plan for people to return, they need a strategy for the physical work environment that follows new safety protocols and allows people to create, collaborate and be productive.
Three key strategies to consider when retrofitting spaces now or reconfiguring in the near term are:
Density:

the number of people per sq. ft/m
Geometry:

how the furniture is arranged
Division:

using screens, panels or barriers
---
These strategies should be used in combination to create spaces that, when supplemented with new safety guidelines, allow people to confidently come back into the workplace. Going forward, organizations will want to create a diverse range of spaces that are highly adaptable to allow them to navigate what's next.
| | |
| --- | --- |
| | |
| | |
| | |
| | |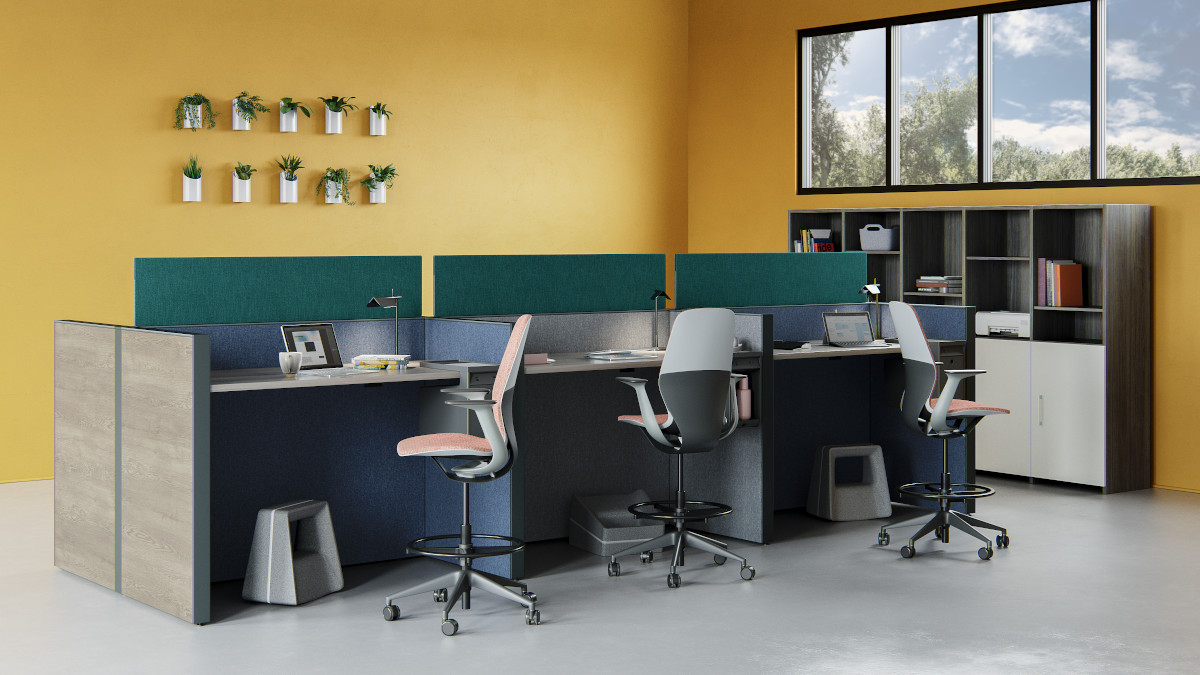 Workplace Settings
The following design considerations and thought starters demonstrate how to adapt existing panel-based settings for the Post-COVID workplace. From height-adjustable and benching to ancillary and home office settings, our team has other ideas how to adapt existing worksettings to meet the new health and safety requirements for a post-COVID workplace.
DESIGN STRATEGIES

Panel-Based Workstations

The current setting accommodates
four resident workers. Some current challenges in this application are:
• Minimal physical separation
• Workers are facing each other
• Stationary boundary screens do not
adjust with height-adjustable desks

Density:

Increase square footage per person by changing desk orientation.

Geometry:

Rotate desks 90 degrees to
eliminate face-to-face orientation.

Division:

•Add 28″ high AMQ screens to
two sides of the height-adjustable
Ology desk.
Add 18″ Answer glass screens to the center panel.

Density:

Increase square footage per
person by changing desk
orientation.

Division:

Add 18″ glass stack to the top
of the 48″ Answer panels.
To discuss how to retrofit your space, contact your Workplace Consultant, give us a call or contact us here.